You've worked hard to turn your dream into a business.
Now grow your business with your own website.
Websites are like business cards – everyone expects your business to have one. Potential customers want information 24/7.
Make it easy for them... and getting their business will be easy for you.
In less than five minutes, you can get your business online with a professional looking, full-featured, easy-to-use website that comes with built-in features to attract new customers and can keep you in touch with customers after the sale.
Just choose a web design that reflects the mood of your company, add your pages, and then fill in the content. Once you have your site the way you like, simply activate your site. It's fast and it's easy. Plus, you can update your site whenever you want from any internet-enabled computer.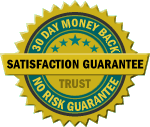 30-Day No Risk Guarantee
We are so sure you'll love your website, you also get a 30-day money back guarantee. If you change your mind within 30 days of activation, we will refund your payment.


No Programming Skills Necessary
No programming or design skills are necessary to build your website. It's easy for you to get your business online. Over 172,000 websites, in many industries, are already using our website builder software - and most of these sites were built by business people who had very little or no experience building websites.
Creating your web page content is as easy as typing a Word document. Your website builder includes two text editing tools, one that has the same buttons and commands as Microsoft Word. With your imagination, you can always be one step ahead of your competition!
Over 30 High Demand Features Included
Best of all, your website comes with 30 high demand features (over $1000 value)
- all included.Just a few of the features include:
10 different web page layouts (with images)
Photo Album
Multimedia Uploads for music, video, or Flash
Digital Downloads (such as for e-book or music sales)
Refer-A-Friend
Mailing List Signup
Newsletter
Autoresponder Page
Shopping Cart
Free Stock Photography
More... (get details here)
Whether you want an informational site, online shopping site, digital download site, or a combination of them all, you can do it - and it's easy. If you're going to sell products online, these features will allow you to show off your products and open your online store in no time. You can also easily keep in touch with customers and give them a way to refer their friends. Online coupons can drive even more business to your off-line store location(s). Your imagination is the limit.

Getting your business online is easy.
When you like the way your website looks, simply activate your site to make it "live." You can use the web address that is automatically assigned or you can use your own domain name. Save time, save money, build business, grow profits.
Join over 172,000 who built their own website.
What are you waiting for?